Crossland

High School




Class Of 1968
ANNOUNCEMENTS
•

•

Dear Crossland Classmates,

As our 50th CHS Class Reunion approaches, the web page below will keep you informed of the weekend activities, allow hotel room bookings and credit card payment options. Ticket price for dinner on Saturday, September 22, 2018 will be $80.00 per person. In addition, you will find airport and transportation information and a donation page. Please refer all classmates to www.crossland68.com as this is our one and only website. Many confuse it with classmates.com which we do NOT use. It is also very important that we reach out to friends who have not registered on our site and who may be unaware of the reunion. Refer to it for further updates and locations!

Weekend itinerary:

September 21, 2018. Friday evening mixer:

Location TBD but very near Gaylord National Harbor***

September 22, 2018. Saturday Dinner:

McCormick & Schmicks

145 National Harbor Blvd., Oxon Hill, MD, 20745

An after party plan is being formulated so stay tuned!

September 23, 2018. Sunday Brunch :

Location TBD***

***Your committee is meeting May 3, 2018 to select the perfect location at National Harbor for both the Friday night mixer and the Sunday brunch.

Lodging:

Our Hotel Room Block is with the Gaylord National Resort and Convention Center. We are starting with a room block of 15 and can add more as needed. Please use this link to secure your room if you are staying Friday and/or Saturday night: https://book.passkey.com/go/crossland68 The room block is being held through August 24, 2018 so be sure to book your room as soon as you can.

Our room block is for Friday and Saturday nights ONLY. If you require additional nights, book directly at www.marriott.com or call central reservations at 1-877-491-0468 to establish a separate reservation for yourself.

The Gaylord, located at 201 Waterfront St., Oxon Hill, MD, 20745 is a Marriott property

Other Marriott hotels include:

Residence Inn by Marriott National Harbor

The AC Hotel National Harbor

Other hotels in National Harbor:

MGM National Harbor

Wyndham Vacation Resort, National Harbor (a condo hotel)

The Westin, National Harbor

Offsite hotels:

Harborside Hotel & Comfort Inn

Transportation:

Washington Reagan (DCA) is closest to National Harbor at www.flyreagan.com

Use Supershuttle (1-800-BLUE VAN) to get from DCA to National Harbor

Baltimore (BWI) airport home page is www.bwiairport.com

Dulles (IAD) airport home page is www.flydulles.com

Other Information:

The web page for National Harbor is www.nationalharbor.com where you can learn more about the location, events, attractions and nightlife.

We have recently learned that the Chesapeake Oyster and Wine Festival is taking place at National Harbor on the same weekend as our reunion, Saturday and Sunday (9/22/18-9/23/18). It may be wise to book your rooms as soon as possible.

Dear friends, please remember to stay in touch via the website www.crossland68.com .

We are looking forward to seeing all of you in September!

The reunion committee

•

New Photo posted of the group who attended the Sept 10, 2017 "Redskins on the River" picnic at Bruce Guinn's house. Click on the Photos link on the left menu bar and scroll down to the 2017 River Picnic Photo Gallery.

•

HELLO CHS 68 CLASSMATES! THE DATE AND LOCATION FOR OUR 50TH HIGH SCHOOL REUNION IN ***2018*** HAS BEEN DETERMINED. SATURDAY SEPTEMBER 22nd, 2018 AT MCCORMICK AND SCHMICK'S at the NATIONAL HARBOUR IN FT WASHINGTON/OXON HILL. THIS WATERFRONT RESTAURANT IS RENOWNED FOR ITS MENU AND OUR WATERSIDE LOCATION IN THE PARTY ROOM AND TERRACE WILL BE THE PERFECT SETTING FOR OUR PARTY. WE WILL HAVE A FRIDAY NIGHT MIXER, SATURDAY COCKTAILS, DINNER AND REUNION, A SATURDAY NIGHT OFF SITE LATE AFTER PARTY, AND A SUNDAY BRUNCH.

NATIONAL HARBOUR FEATURES THE NEW MGM HOTEL AND CASINO, THE SKY WHEEL, THE GAYLORD HOTEL,NUMEROUS BARS AND RESTAURANTS, FERRY SERVICE TO OLD TOWN VIRGINIA - ALL IN ONE CONTAINED SPACE OVERLOOKING THE WOODROW WILSON BRIDGE AND JUST MINUTES FROM RONALD REAGAN (DCA) AIRPORT FOR YOU FLY INS. SO PLAN AHEAD TO BE HERE !! DON'T MISS THIS ONE !

YOUR VERY HARD WORKING REUNION COMMITTEE

BRUCE,ANN,GAIL,DENNIS, ROGER,IRENE,MIKE ,JENS, GARY AND JIMMY

•

As a tribute to all our classmates reaching the magical Medicare age this year...check out this YouTube video set to Steppenwolf's "Born to be Wild".

•

Check out this cool You Tube video with a nostalgic tour through Hyattsville and upper PG County in the 60s. Great background music and sound from WPGC AM 1580. Brings back lots of memories!!! Enjoy

•

A few tunes from our times to enjoy while you browse the site.
Welcome to the Crossland High Class Of 1968 web site.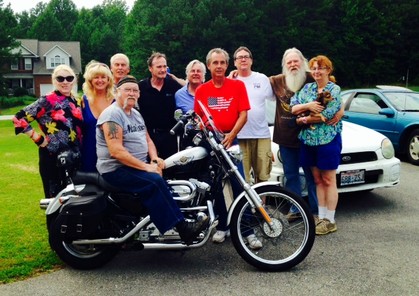 Greetings from your CHS '68 Reunion Committee
(Liza Lutz ('69), Gail Watson, Dennis Seaman, Bruce Guinn, Mike Roderick, Jens Rygh, Jimmy Farrell, Gary Kipple, Roger Saucier. (not shown Ann Stafford}