Crossland

High School




Class Of 1968
ANNOUNCEMENTS
•

Dear Classmates,

As promised, a decision was made on June 15th that the 70th birthday party to be held the weekend of July 31, 2020 has been canceled. Mostly in part to the Covid virus, however, our host Bruce Guinn suffered a stroke a few weeks ago. I spoke to him just briefly but he's home, with medical attention and family nearby, and he tells me that his doctor said he was a very fortunate person. It was a mild stroke and he's doing fine. He's up for phone calls or cards if you wish to contact him ... his home phone number is 443-295-7447. His address is 228 Overlook Dr., Prince Frederick, MD 20678 and his email is B.G2013@comcast.net. Should there be any rescheduling of this party, perhaps in September like we usually do, we will update the class. I'm sure we all wish Bruce a full recovery. And to everyone else, stay safe.


Peace,

Your CHS Reunion Committee

•

New Photo posted of the group who attended the Sept 10, 2017 "Redskins on the River" picnic at Bruce Guinn's house. Click on the Photos link on the left menu bar and scroll down to the 2017 River Picnic Photo Gallery.

•

As a tribute to all our classmates reaching the magical Medicare age this year...check out this YouTube video set to Steppenwolf's "Born to be Wild".

•

Check out this cool You Tube video with a nostalgic tour through Hyattsville and upper PG County in the 60s. Great background music and sound from WPGC AM 1580. Brings back lots of memories!!! Enjoy

•

A few tunes from our times to enjoy while you browse the site.
Welcome to the Crossland High Class Of 1968 web site.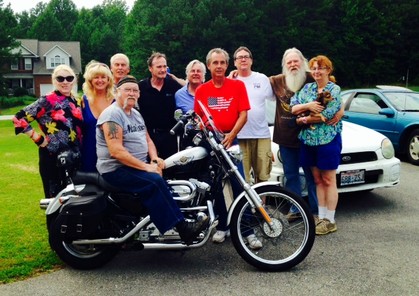 Greetings from your CHS '68 Reunion Committee
(Liza Lutz ('69), Gail Watson, Dennis Seaman, Bruce Guinn, Mike Roderick, Jens Rygh, Jimmy Farrell, Gary Kipple, Roger Saucier. (not shown Ann Stafford}