Crossland

High School




Class Of 1968
ANNOUNCEMENTS
•

AS PROMISED HERE IS THE LIST OF ATTENDEES FOR SATURDAY SEPTEMBER 22, 2018 DINNER AT MCCORMICK AND SHMICKS

FAITH AMBROSE AND GUEST

SUSAN AMOS

BARBARA BELSHAW AND GUEST

SHIRLEY BICKINGS

LINDA BRIESMASTER AND GUEST

LOUISE BROOKE

JANICE PENNY BROWN AND GUEST

DON BULMER AND GUEST

BOB BURNS

LYN CARPER

TERRY LAWS

TIM CHANEY

CINDY COLLINS AND GUEST

LESLIE DAVIS

DIANE DESNOYERS

ERN MESSINA

JOE DIANA

CAROL DIFILIPPO

LINDA DIFILIPPO

DANNY DOANE AND GUEST

JOHN DOLL AND GUEST

PAT EMOND

DIANE FINNEGAN AND GUEST

DANNY FITZPATRICK AND GUEST

TOM FRISBY AND GUEST

BOB GAITHER AND GUEST

RICK GEARING AND GUEST

RICHARD GINNETT AND GUEST

BRUCE GORSUCH AND GUEST

DIANE GRIMLEY

BOB GROSSMAN

BRUCE GUINN

SANDY HALLER

JOHN HERTZLER AND GUEST

KATHY JENNINGS

CHARLIE KIMMEY AND GUEST

GARY KIPPLE

WAYNE LANIER

GEORGE LARUE AND GUESTS

JIMMY LEAPLEY

ERIK LISTOU AND GUEST

BELINDA LOWERY

LIZA LUTZ

LYNN MARSHALL

VICKY MATHER

JANET MCCALL

TOM MCCARTHY AND GUEST

GLEN MULLEN AND GUEST

RUSTY OLMERT

DAVE PRICE

KIRK REINHARDT

JENS RYGH

SYLVIA SANTA ANNA

ROGER SAUCIER

DENNIS SEAMAN

NANCY SHARP

SANDY SHARP

IRENE SHERIDAN

TIM SHERIDAN AND GUEST

LINDA SHIFFLETT

ANN STAFFORD AND GUEST

TOM TANKERSLY AND GUEST

JANICE TREAKLE

ROBERTA VAN SWARINGEN

GREG VERNON

DR EDWARD VEST

JOAN WALTER

GAIL WATSON AND GUEST

DAVE WEST

PAT WILD AND GUEST

MARC WOHL

ROB YESCHECK

MALCOMB VERSEL

LINDA BALLANGEE

KATHY HANLEY AND GUEST

DIDNT MAKE THE CUT OFF FOR TICKET BUT STILL COMING !!

CHIP LEARY AND GUEST

ROB CARROLL

LUCY ROBBINS

DIANE HERRING

KEN WEST

BRUCE KING

•

New Photo posted of the group who attended the Sept 10, 2017 "Redskins on the River" picnic at Bruce Guinn's house. Click on the Photos link on the left menu bar and scroll down to the 2017 River Picnic Photo Gallery.

•

As a tribute to all our classmates reaching the magical Medicare age this year...check out this YouTube video set to Steppenwolf's "Born to be Wild".

•

Check out this cool You Tube video with a nostalgic tour through Hyattsville and upper PG County in the 60s. Great background music and sound from WPGC AM 1580. Brings back lots of memories!!! Enjoy

•

A few tunes from our times to enjoy while you browse the site.
Welcome to the Crossland High Class Of 1968 web site.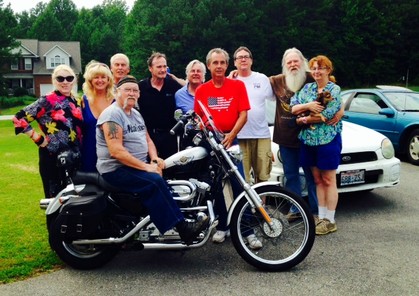 Greetings from your CHS '68 Reunion Committee
(Liza Lutz ('69), Gail Watson, Dennis Seaman, Bruce Guinn, Mike Roderick, Jens Rygh, Jimmy Farrell, Gary Kipple, Roger Saucier. (not shown Ann Stafford}