Crossland

High School




Class Of 1968
ANNOUNCEMENTS
•

•

+++ UPDATE SEPTEMBER 5, 2018+++

Greetings...we are now into the homestretch leading up to big event. Through the generosity and talent of two of our classmates, we have two special live auction items on Saturday night. Richard Ginnette has created an original oil on panel painting titled "Glory Days" which will bring back some fond memories of days gone by. Also, Penny Brown has handmade a beautiful queen size windmill quilt and matching rug. If you are interested in bidding on these items, come prepared!!!

Please revisit the Reunion Info page as we have added a number of new links for information about parking, directions, maps, and other entertainment options.

"Glory Days" by Richard Ginnette

Windmill Quilt and Braided Rug by Penny Brown

•

AS PROMISED HERE IS THE LIST OF ATTENDEES FOR SATURDAY SEPTEMBER 22, 2018 DINNER AT MCCORMICK AND SHMICKS

FAITH AMBROSE AND GUEST

SUSAN AMOS

BARBARA BELSHAW AND GUEST

SHIRLEY BICKINGS

LINDA BRIESMASTER AND GUEST

LOUISE BROOKE

JANICE PENNY BROWN AND GUEST

DON BULMER AND GUEST

BOB BURNS

LYN CARPER

TERRY LAWS

TIM CHANEY

CINDY COLLINS AND GUEST

LESLIE DAVIS

DIANE DESNOYERS

ERN MESSINA

JOE DIANA

CAROL DIFILIPPO

LINDA DIFILIPPO

DANNY DOANE AND GUEST

JOHN DOLL AND GUEST

PAT EMOND

DIANE FINNEGAN AND GUEST

DANNY FITZPATRICK AND GUEST

TOM FRISBY AND GUEST

BOB GAITHER AND GUEST

RICK GEARING AND GUEST

RICHARD GINNETT AND GUEST

BRUCE GORSUCH AND GUEST

DIANE GRIMLEY

BOB GROSSMAN

BRUCE GUINN

SANDY HALLER

JOHN HERTZLER AND GUEST

KATHY JENNINGS

CHARLIE KIMMEY AND GUEST

GARY KIPPLE

WAYNE LANIER

GEORGE LARUE AND GUESTS

JIMMY LEAPLEY

ERIK LISTOU AND GUEST

BELINDA LOWERY

LIZA LUTZ

LYNN MARSHALL

VICKY MATHER

JANET MCCALL

TOM MCCARTHY AND GUEST

GLEN MULLEN AND GUEST

RUSTY OLMERT

DAVE PRICE

KIRK REINHARDT

JENS RYGH

SYLVIA SANTA ANNA

ROGER SAUCIER

DENNIS SEAMAN

NANCY SHARP

SANDY SHARP

IRENE SHERIDAN

TIM SHERIDAN AND GUEST

LINDA SHIFFLETT

ANN STAFFORD AND GUEST

TOM TANKERSLY AND GUEST

JANICE TREAKLE

ROBERTA VAN SWARINGEN

GREG VERNON

DR EDWARD VEST

JOAN WALTER

GAIL WATSON AND GUEST

DAVE WEST

PAT WILD AND GUEST

MARC WOHL

ROB YESCHECK

MALCOMB VERSEL

LINDA BALLANGEE

KATHY HANLEY AND GUEST

DIDNT MAKE THE CUT OFF FOR TICKET BUT STILL COMING !!

CHIP LEARY AND GUEST

ROB CARROLL

LUCY ROBBINS

DIANE HERRING

KEN WEST

BRUCE KING

•

+++UPDATE AUGUST 8, 2018+++

Our venue for Saturday night 22 September at McCormick and Schmicks, has a table/seating limit per our contract and we have met the capacity for the space allowed us. You can no longer purchase a ticket for Saturday night 's dinner unfortunately. Only paid guests with the supplied photo name tags will be served dinner from our buffet menu. However, keep in mind this is a restaurant with public space at the bar and other tables as well. Should you choose to dine as a patron and then join the classmates once the buffet has been served there will be plenty of time to do so. We have the reserved space until midnight.

The hotel room block at the Gaylord remains open but will shut down on 23 August per our contract with them.

With only a few weeks to go, the committee wishes to thank all of you who plan to attend, have offered expertise, talent, donations of every sort and overall enthusiasm for this milestone event in our lives. Please do not hesitate to reach out for any concerns if you missed the deadline.

•

Dear Crossland Classmates,

***Updated June 11, 2018: Our reunion registration response has been phenomenal so far!!! We are seeing names we haven't heard from in decades!!! There is a limit to the number of tickets we can sell for Saturday night due to space restrictions, so, signup soon!!! Further updates about the weekend activities are locations are below***

As our 50th CHS Class Reunion approaches, the web page below will keep you informed of the weekend activities, allow hotel room bookings and credit card payment options. Ticket price for dinner on Saturday, September 22, 2018 will be $80.00 per person. In addition, you will find airport and transportation information and a donation page. Please refer all classmates to www.crossland68.com as this is our one and only website. Many confuse it with classmates.com which we do NOT use. It is also very important that we reach out to friends who have not registered on our site and who may be unaware of the reunion. Refer to it for further updates and locations!

Weekend itinerary:

September 21, 2018. Friday evening mixer, 4pm - ???:

The Irish Whisper pub at National Harbor, 177 Fleet St, Oxon Hill, MD 20745.

Casual, drinks and food on your own, pub fare and happy hour pricing.

September 22, 2018. Saturday Dinner, 5:30-12:00am

McCormick & Schmicks Restaurant on the Potomac River

145 National Harbor Blvd., Oxon Hill, MD, 20745

Cost is $80 per person. Signup on the 50th Reunion Registration Page.

September 23, 2018. Sunday Brunch, 11:00am start time

The Walrus Oyster and Ale House, 152 Waterfront St, National Harbor, Oxon Hill MD.

Casual seafood spot with local fare, whimsical spirit & views of Potomac River. Cost is on your own.

September 23, 2018. Sunday Afternoon Football Game and Picnic 12:30-???

For those with car transportation and who are interested, Bruce Guinn is once again offering his lovely Patuxent Riverfront home to host our 6th annual Redskins on the River picnic. His address is 228 Overlook Drive, Prince Frederick, MD 20678. You can arrive anytime after 12:30 for 1:00 kickoff vs Green Bay Packers. Your committee is providing beverages and grilled main dish items. Please bring a dish or snacks to share. Maps will be provided Friday and Saturday night or you can reach Bruce at B.g2013@comcast.net or 443-295-7447. Bruce would appreciate a head count in advance.

Lodging:

Our Hotel Room Block is with the Gaylord National Resort and Convention Center. We expanded our block of rooms to 40 and they are going fast. This is our limit, so, book soon as there is another major event going on that same weekend!!! Please use this link to secure your room if you are staying Friday and/or Saturday night: https://book.passkey.com/go/crossland68 The room block is being held through August 24, 2018 so be sure to book your room as soon as you can.

Our room block is for Friday and Saturday nights ONLY. If you require additional nights, book directly at www.marriott.com or call central reservations at 1-877-491-0468 to establish a separate reservation for yourself.

The Gaylord, located at 201 Waterfront St., Oxon Hill, MD, 20745 is a Marriott property

Other Marriott hotels include:

Residence Inn by Marriott National Harbor

The AC Hotel National Harbor

Other hotels in National Harbor:

MGM National Harbor

Wyndham Vacation Resort, National Harbor (a condo hotel)

The Westin, National Harbor

Offsite hotels:

Harborside Hotel & Comfort Inn

Transportation:

Washington Reagan (DCA) is closest to National Harbor at www.flyreagan.com

Use Supershuttle (1-800-BLUE VAN) to get from DCA to National Harbor

Baltimore (BWI) airport home page is www.bwiairport.com

Dulles (IAD) airport home page is www.flydulles.com

Other Information:

The web page for National Harbor is www.nationalharbor.com where you can learn more about the location, events, attractions and nightlife.

We have recently learned that the Chesapeake Oyster and Wine Festival is taking place at National Harbor on the same weekend as our reunion, Saturday and Sunday (9/22/18-9/23/18). It may be wise to book your rooms as soon as possible.

Dear friends, please remember to stay in touch via the website www.crossland68.com .

We are looking forward to seeing all of you in September!

The reunion committee

•

New Photo posted of the group who attended the Sept 10, 2017 "Redskins on the River" picnic at Bruce Guinn's house. Click on the Photos link on the left menu bar and scroll down to the 2017 River Picnic Photo Gallery.

•

HELLO CHS 68 CLASSMATES! THE DATE AND LOCATION FOR OUR 50TH HIGH SCHOOL REUNION IN ***2018*** HAS BEEN DETERMINED. SATURDAY SEPTEMBER 22nd, 2018 AT MCCORMICK AND SCHMICK'S at the NATIONAL HARBOUR IN FT WASHINGTON/OXON HILL. THIS WATERFRONT RESTAURANT IS RENOWNED FOR ITS MENU AND OUR WATERSIDE LOCATION IN THE PARTY ROOM AND TERRACE WILL BE THE PERFECT SETTING FOR OUR PARTY. WE WILL HAVE A FRIDAY NIGHT MIXER, SATURDAY COCKTAILS, DINNER AND REUNION, A SATURDAY NIGHT OFF SITE LATE AFTER PARTY, AND A SUNDAY BRUNCH.

NATIONAL HARBOUR FEATURES THE NEW MGM HOTEL AND CASINO, THE SKY WHEEL, THE GAYLORD HOTEL,NUMEROUS BARS AND RESTAURANTS, FERRY SERVICE TO OLD TOWN VIRGINIA - ALL IN ONE CONTAINED SPACE OVERLOOKING THE WOODROW WILSON BRIDGE AND JUST MINUTES FROM RONALD REAGAN (DCA) AIRPORT FOR YOU FLY INS. SO PLAN AHEAD TO BE HERE !! DON'T MISS THIS ONE !

YOUR VERY HARD WORKING REUNION COMMITTEE

BRUCE,ANN,GAIL,DENNIS, ROGER,IRENE,MIKE ,JENS, GARY AND JIMMY

•

As a tribute to all our classmates reaching the magical Medicare age this year...check out this YouTube video set to Steppenwolf's "Born to be Wild".

•

Check out this cool You Tube video with a nostalgic tour through Hyattsville and upper PG County in the 60s. Great background music and sound from WPGC AM 1580. Brings back lots of memories!!! Enjoy

•

A few tunes from our times to enjoy while you browse the site.
Welcome to the Crossland High Class Of 1968 web site.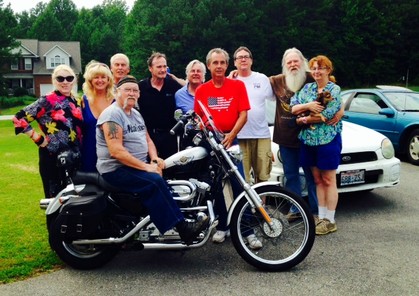 Greetings from your CHS '68 Reunion Committee
(Liza Lutz ('69), Gail Watson, Dennis Seaman, Bruce Guinn, Mike Roderick, Jens Rygh, Jimmy Farrell, Gary Kipple, Roger Saucier. (not shown Ann Stafford}