Crossland

High School




Class Of 1968
ANNOUNCEMENTS
•

HELLO CHS 68 CLASSMATES! THE DATE AND LOCATION FOR OUR 50TH HIGH SCHOOL REUNION IN ***2018*** HAS BEEN DETERMINED. SATURDAY SEPTEMBER 22nd, 2018 AT MCCORMICK AND SCHMICK'S at the NATIONAL HARBOUR IN FT WASHINGTON/OXON HILL. THIS WATERFRONT RESTAURANT IS RENOWNED FOR ITS MENU AND OUR WATERSIDE LOCATION IN THE PARTY ROOM AND TERRACE WILL BE THE PERFECT SETTING FOR OUR PARTY. WE WILL HAVE A FRIDAY NIGHT MIXER, SATURDAY COCKTAILS, DINNER AND REUNION, A SATURDAY NIGHT OFF SITE LATE AFTER PARTY, AND A SUNDAY BRUNCH.

NATIONAL HARBOUR FEATURES THE NEW MGM HOTEL AND CASINO, THE SKY WHEEL, THE GAYLORD HOTEL,NUMEROUS BARS AND RESTAURANTS, FERRY SERVICE TO OLD TOWN VIRGINIA - ALL IN ONE CONTAINED SPACE OVERLOOKING THE WOODROW WILSON BRIDGE AND JUST MINUTES FROM RONALD REAGAN (DCA) AIRPORT FOR YOU FLY INS. SO PLAN AHEAD TO BE HERE !! DON'T MISS THIS ONE !

YOUR VERY HARD WORKING REUNION COMMITTEE

BRUCE,ANN,GAIL,DENNIS, ROGER,IRENE,MIKE ,JENS, GARY AND JIMMY

•

As a tribute to all our classmates reaching the magical Medicare age this year...check out this YouTube video set to Steppenwolf's "Born to be Wild".

•

To the class of 1968 I really miss everyone of you and I hope that each and everyone of you are very Happy and comfortable now in life. I have always had a lot of fun all of my life and plan to have a lot more fun I truly hope that each and everyone of you there are having fun too! I am going to try to make the next class meeting now that I am not working so hard and I would LOVE to see each and everyone of you! I really want to say Hi! to each of you good luck and have a lot fun and when. If find the person that said the golden years were golden I am going to try to kick his ass because the golden years aren't so golden they hurt. Any one that wants to contact me please feel free to!
Mike Roberts

•

Check out this cool You Tube video with a nostalgic tour through Hyattsville and upper PG County in the 60s. Great background music and sound from WPGC AM 1580. Brings back lots of memories!!! Enjoy

•

A few tunes from our times to enjoy while you browse the site.
Welcome to the Crossland High Class Of 1968 web site.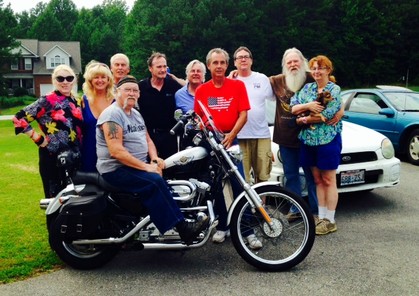 Greetings from your CHS '68 Reunion Committee
(Liza Lutz ('69), Gail Watson, Dennis Seaman, Bruce Guinn, Mike Roderick, Jens Rygh, Jimmy Farrell, Gary Kipple, Roger Saucier. (not shown Ann Stafford, Terry Urman))